According to Wccftech, AMD CEO Dr. Lisa Su confirmed on Sunday that the first notebooks with the new Ryzen 4000 chips will be launched early in 2020 during CES in January. The Ryzen 4000 for the mobile platform is APUs based on the 7 nanometer Zen 2 architecture.
Ryzen 4000 for midyear desktops
Source: AMD / Disclosure
AMD's release schedule for 2020 will follow the same schedule as 2019. Each new chip generation will be released at the same time as the predecessor generation was announced this year. In fact, this is good and upbeat news, as it demonstrates the company's commitment not to delay.
Chip nomenclature can confuse
Ryzen 3000 mobile APUs, based on the 12 nm Zen + microarchitecture, were launched earlier this year, while Ryzen 3000 desktop CPUs, based on the 7 nm Zen 2 microarchitecture, were launched in July.
By 2020, Ryzen 4000 mobile APUs move to Zen 2 (7 nm) microarchitecture and Ryzen 4000 CPUs will debut Zen 3 (7 nm +) microarchitecture.
EPYC Milan Server Chips 2nd Half
In the first months of the second half, it's time for the release of Zen 3-based EPYC server CPUs based on Milan.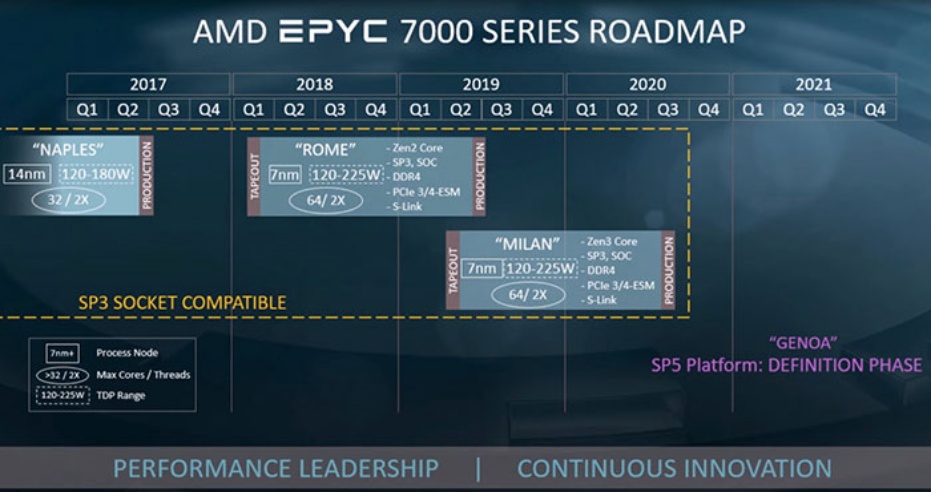 Source: AMD / Disclosure
The new chips are expected to be compatible with current sockets: SP3 for servers and AM4 for desktop processors.
Zen 3 with 8% higher CPI
Some analysts are predicting that the Zen 3 architecture could have an 8% instruction gain per clock over Zen 2 at a minimum. Obviously, Ryzen 4000s should perform better than previous-generation chips, even if they have the same frequency, and use less power. It is still rumored that they will have a 200 MHz increase in frequency.
The new architecture should maintain eight chiplets per die, with cache hierarchy and infinity fabric improvements to reduce latency.
TecMundo Discount Coupons: